Laptops for Graduating Seniors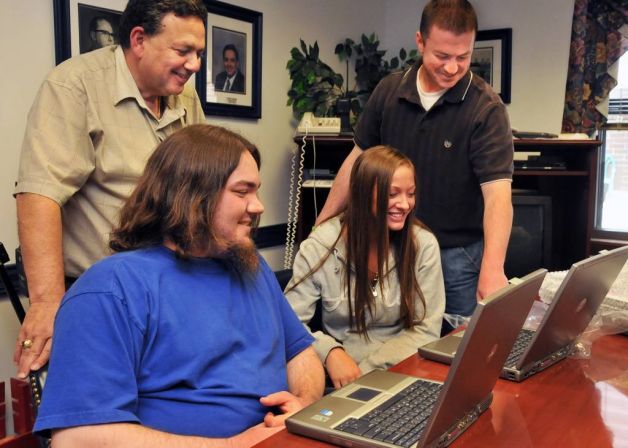 For the past several years, the Watervliet Housing has sought funding from local businesses and organizations to purchase laptops for graduating seniors from Watervliet, Cohoes, and Heatly High Schools heading to college. This program provides laptops for low income students who would not be able to purchase a laptop on their own.
Charles Patricelli, the Executive Director of the Watervliet and Cohoes Housing Authorities, believes that computers are more of a need than a want in today's world. "Purchasing a computer is not always a financial possibility for families," he said. "We want our college-bound students to be on the same playing field as others when they begin college in the fall." Each computer comes loaded with Microsoft Office and Norton Security Software. In order for the student to be able to keep the computer, they must complete at least one full year of college. This program is a great asset to not only the students but the schools.
Watervliet High School Principal Ryan Groat noted that, "Mr. Patricelli, the Housing Authority staff and the donors deserve applause for continuing this program that provides laptops to such deserving students and it really helps prepare them for college and future careers." The laptop program has been a huge success since its development several years ago. The Watervliet and Cohoes Housing Authorities are very proud of how important it has become to the community. They've even had local families in need reach out to them about this program.
"I am especially proud of this program and I wish to thank the staff and all those who donated over the past several years to make it a such a success," added Mr. Patricelli, "Over 100 laptops have been provided to our youth and we're hoping this has made a difference in their future."
The Watervliet Housing Authority has a program called PC's for Kids. This visionary project is both innovative and very beneficial not only to the children at the Watervliet Housing Authority but the parents as well. The goal of this program is to provide each child the same opportunity as most other higher income families to connect to the internet for school, information, or just plan fun.
We ask businesses, organizations and individuals in the community to check their inventory and donate old but usable parts, such as monitors, keyboards, CD-ROMs, mice, rams and licensed software to the Housing Authority. We will then separate the equipment and with the help of professional volunteers, everyone will receive usable computers.
We count on grants and other contributions so we're able to purchase software and additional computer parts that were not previously donated.
We feel everyone should have an equal opportunity in today's business world despite their economic status. This program will provide them the opportunity to expand upon their knowledge and hopefully the motivation to further their education.
We couldn't stop there, so we had all our sites wired for internet. Now every one of our 408 apartments can connect to the internet right from their own home all free of charge. The only requirement is that the WHA has their email address and must respond to emails to assure communication with the office. Tenants now can view their account balances, personal information and both pending and completed work orders on the internet.
When this program began we hoped to have approximately 40 computers completed and ready to be distributed within the first year. However, since this program was started in January 2003 we have had several assembly sessions and over 300 of our 400 units are now connected.
This program has been a great benefit to the low-income families in public housing and we would like to thank all the businesses and individuals who helped make it a success.
Each year we encourage resident youth ages 14 -21 that are attending school to work at the Watervliet Housing Authority. Both boys and girls work in various jobs to help the authority look good and help give a positive experience to the children, some working for the first time. The jobs range from clerical, painting and cleaning to working with younger children in our Summer SHED Program. Please remember any child under 18 years of age needs working papers. Follow the link below for Job Application.
Job Application